A full featured double fishing kayak with storage for both anglers
The Viking Tempo Fisherman 2 double answers the long awaited call for a stable, roomy, fishing and expedition double kayak. It features comfortable moulded seats, backrest, and large front and rear wells for fish and gear.
These kayaks are super stable, and have been designed to be powered by an electric motor. Paddle or motor, you will enjoy many happy hours in your Tempo 2 kayak – whether you are fishing, diving, free diving or on expedition.
Color Option: Kiwi (Green/Black)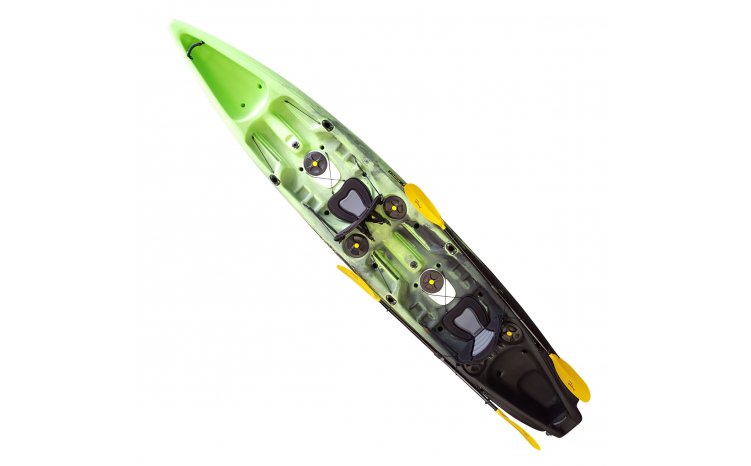 Waterproof Hatches and Mini Tackle Pods
Adjustable Footpegs
6 Flushmount Rod Holder and 2 Railblaza Starports
Kayak Composition
All Viking Kayaks are manufactured using the very latest development in virgin linear medium-density polyethylene. This plastic is stronger and stiffer than cheaper material enabling us to make the kayaks noticeably lighter. This material incorporates Maximum UV Inhibitors and is Colorfast.
The accessories on the kayaks are nylon installed with stainless steel hardware – suitable for use in salt water conditions.
Specifications
30 Year Warranty
Interested in purchasing a Viking Kayak?