The Oxygen 5.7 is the ideal fitness and training Ski. Perfect for clubs and touring as the Oxygen Ski offers more stability than full on race versions, while still maintaining excellent hull speed.
Being made from UV stabilised HDPE means it's maintenance free and bullet proof, making it ideal for clubs as well as individuals wanting a no maintenance craft that can handle knocks and scrapes.
Color Option: Lime Green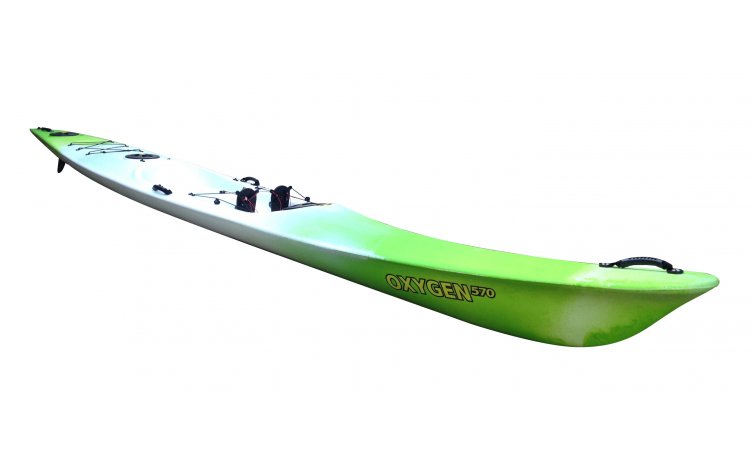 River Rudder Kit - Optional Upgrade
Kayak Composition
All Viking Kayaks are manufactured using the very latest development in virgin linear medium-density polyethylene. This plastic is stronger and stiffer than cheaper material enabling us to make the kayaks noticeably lighter. This material incorporates Maximum UV Inhibitors and is Colorfast.
The accessories on the kayaks are nylon installed with stainless steel hardware – suitable for use in salt water conditions.
Specifications
18′ length
24″ width
59 lbs weight
253.5lb carrying capacity
30 Year Warranty
We stand by the quality and craftsmanship of our kayaks. We want you to rest assured this kayak will last long enough so future generations of Vikings can dare to explore new waters in it. This is why we are proud to offer an unprecedented 30 Year Warranty.
The extended limited warranty activation is easy and free, simply register your new kayak online on our Warranty Activation page.
The extended back-to-base 30 year warranty applies only to the original owner, the owner whose name is registered on our warranty database.
The extended warranty covers the hull of the kayak only. Accessories and attachments (including seats, paddles, bungee cords, etc.) and graphics are covered for one year. The extended warranty does not cover intentional or unintentional misuse/abuse or accidental damage or if it has been used to perform a function that it has not been designed for. Normal wear and tear including dents and abrasions are not covered by this warranty. The extended warranty does not apply to kayaks used for commercial use including guide fleets.
Interested in purchasing a Viking Kayak?